DIY Hardware - The Future Of The Internet Of Things
DIYZER The Open Source Collaboration Platform Empowering Engineers To Make The World A Better Place
The Internet Of Things seems like a futuristic state, but the truth is engineers, inventors, entrepreneurs and students alike are looking for ways to leverage in-home hardware, mobile device connectivity with in-home hardware and personal robotic assistants to make life easier. This trend has significant momentum with Apple's release of HomeKit in iOS8 and Amazon's patent for package delivery drones leading the way. Venture Capital firms are also looking for investments like Jibo, founded by Cynthia Breazeal, the creator of a robot designed to be a personal assistant that focuses on both human interaction and managing a connected home network.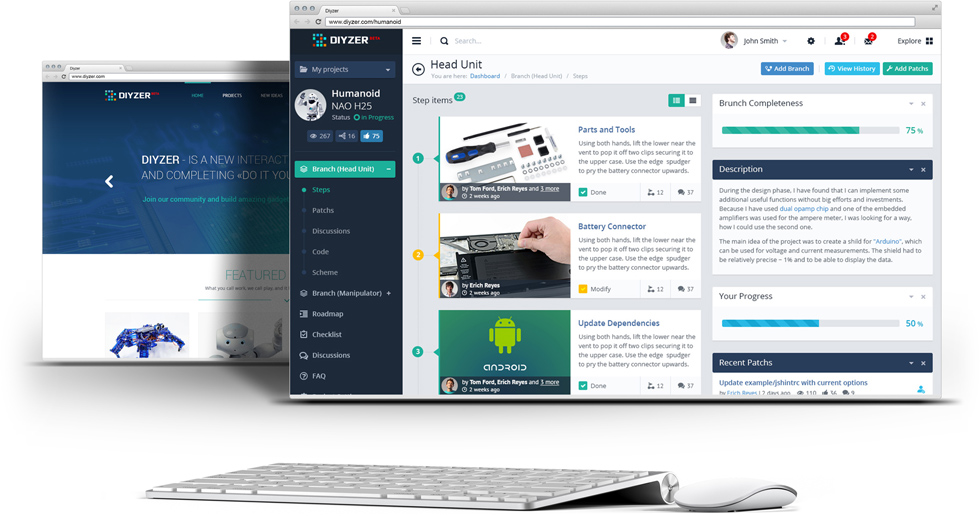 Challenge
Oftentimes startups and inventors have great ideas, but they are limited by lack of development resources and engineering talent. That's why we created DIYZER as an open source collaboration platform dedicated to multiplying the efforts of individuals or small teams by leveraging the engineering power of like-minded community members.

Solution
DIYZER Leverages Community To Create The Internet Of Things

We are dedicated to helping people work together on smart hardware projects by collaborating in a common workspace designed to scale as development demands increase. By sharing mindshare, as well as, physical hardware assets, DIYZER gives aspiring entrepreneurs the resources they need to synch-up, store code, control versions, and manage contributions - while improving instructions about how to assemble parts to build the device.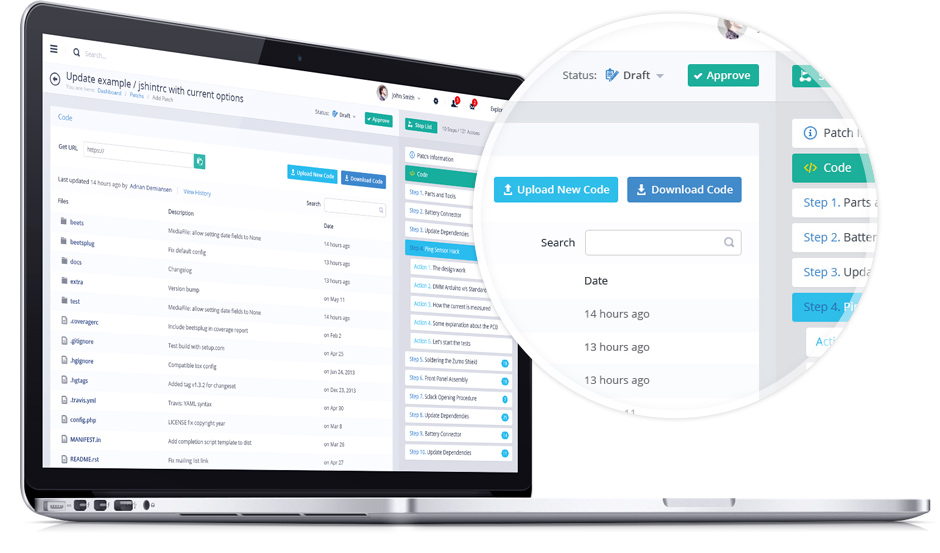 Code Repository | Storing Your Work In A Trustworthy Platform
Each project has an integrated Git repository to help you handle code management. Use the power of Git by cloning project repos to your local environment or download/upload the code directly through your browser in case you're not familiar with Git. Maintain the integrity of your code and keep track of changes in the project history.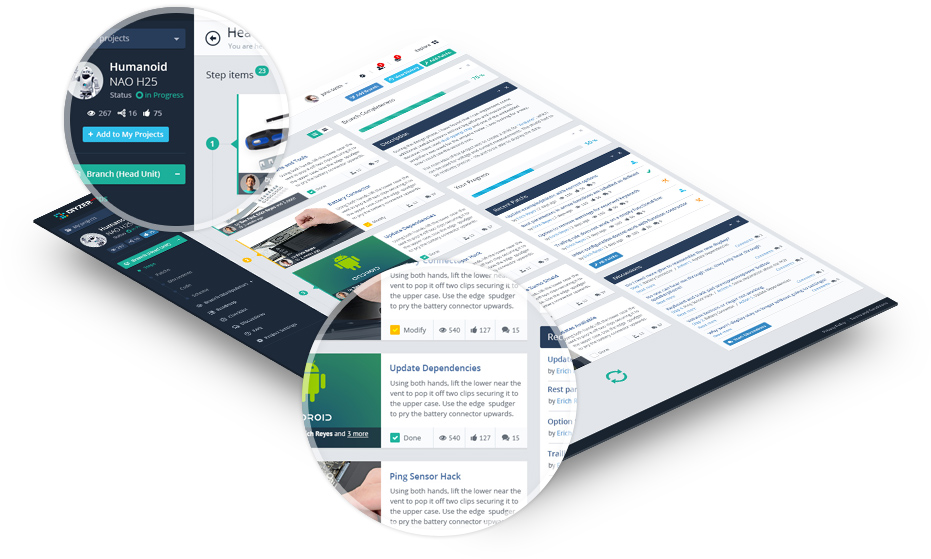 Branches | Because Success Is The Sum Of Many Parts
As your project grows, you may need to work on several aspects in parallel. DIYZER allows you to create Branches enabling you and your team to work on independent project parts simultaneously or keep website/mobile app code separate from your hardware device.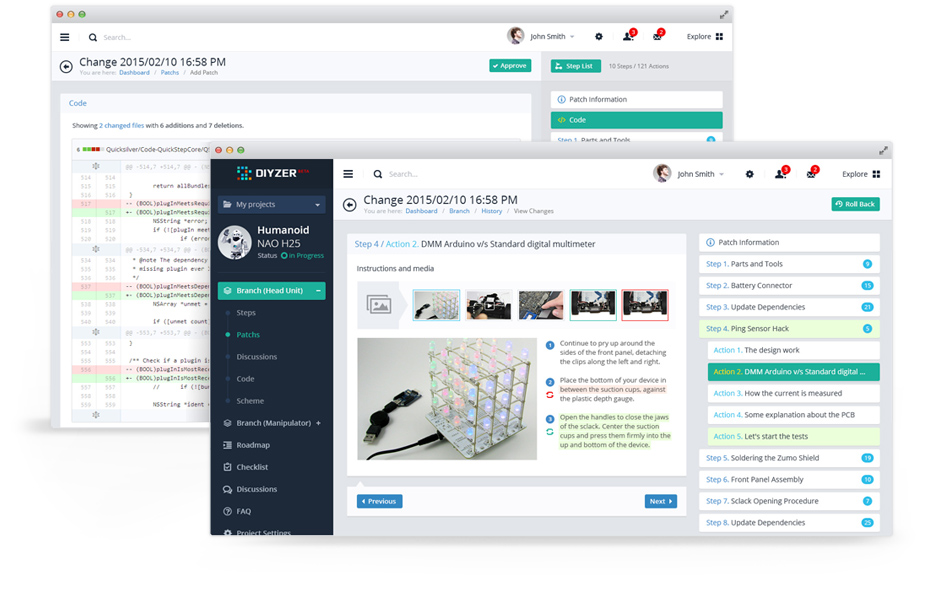 Patches | Contribute Fixes To Projects & Improve
Great innovations arise from talented people working together. We've taken a proven approach to distributed software development and applied it to the hardware development process. Patches enable community members to contribute to other project owners and to receive suggestions for their own inventions. Patches enable:
Improvement suggestions for hardware steps
Code reviews and assimilation
Collaborative development with DIYZER members
Collaboration | Open Source Driven Teamwork With Engineers Worldwide

Discuss your projects and ideas - build better gadgets! You can start a discussion almost anywhere. Chat about projects or branches, explain something on a step action or in a patch, ask more about someone's idea or just say "thank you" for someone's work.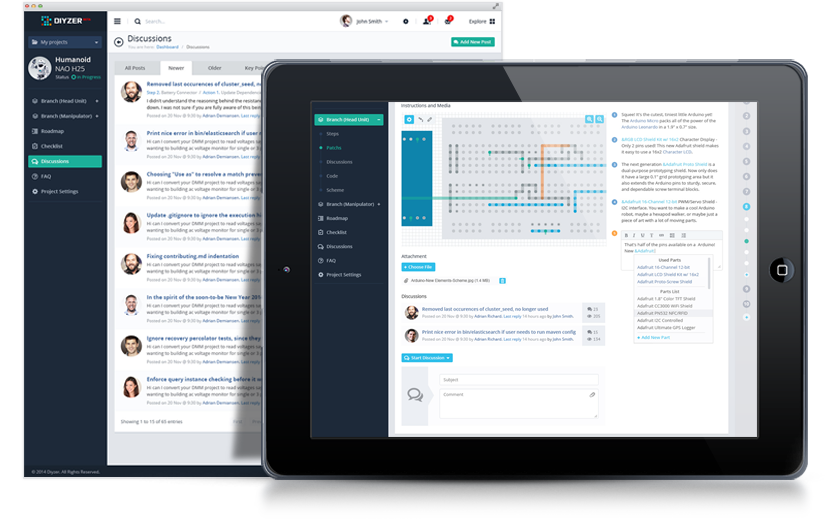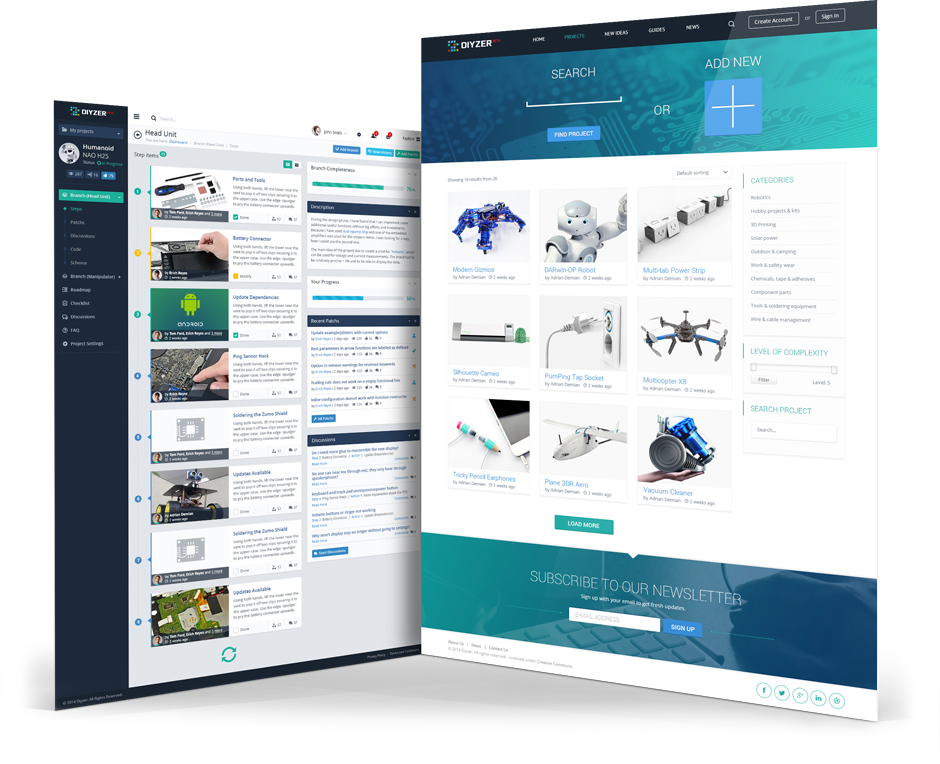 Results You Can Expect With DIYZER
By using DIYZER as a collaborative framework for your Internet Of Things hardware project, you will have immediate access to like-minded engineers worldwide capable of helping you make your application a success. Realize results like:
Increased collaboration using open source workspace for hardware sharing and code improvement
Free code repository enabling intelligent versioning control and Git management
Improved engineering development with built-in support for parallel development efforts using branches
Reduce risk by leveraging proven approach to distributed software development now applied to hardware development
Interested in working with us?
If you have a new business enquiry, a cracking project idea or simply want to have a chat and explore how we can work together,
we'd love to hear from you.