Learning Without Boundaries: IRI's e-Learning Platform
Background
The International Republican Institute (IRI) is a nonprofit, nonpartisan, organization dedicated to advancing freedom and democracy worldwide. Since 1983, IRI has worked to develop democratic institutions and ideals, carrying out a variety of international programs to promote freedom, self-government and the rule of law worldwide. IRI provides technical assistance in the areas of political party strengthening, developing civic institutions and open elections, promoting democratic governance and advancing the rule of law.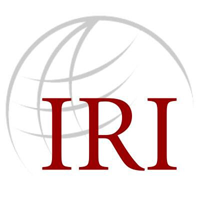 Challenge
Since 1994, IRI has been at the forefront of working at the regional level to strengthen multi-party political systems, enhance civil society, promote democratic governance and foster unity efforts in Ukraine. 

Throughout the years, IRI has produced numerous materials andresources, as well as developed innovative ways to bring the Ukrainiangovernment closer to its citizens by encouraging responsiveness, transparency, andaccountability. To broaden its impact in-country, IRI decided to establish anonline presence to reach more people and spread knowledge at a faster pace.
IRI in Ukraine chose to develop an e-Learning Platform, which would provide information and educational materials regarding past and current programming. The website had to include a calendar of upcoming programming activities and an online application process for potential program participants to attend IRI training seminars.

Likewise, the e-Learning Platform had to provide information about past events, photos, success stories, news and programming announcements. These tools would give IRI Ukraine the ability to provide sustainable training materials to a wider audience of stakeholders than IRI could train in physical classroom settings.
Solution
Our team started from the project discovery phase and closely worked with IRI to analyze their workflows, assets, target audiences and goals they wanted to achieve. We ran multiple on-site and online workshops to discuss all the aspects, build theories and brainstorm solutions. The results of this process were jointly developed project requirements and an implementation roadmap.
Based on our findings during the discovery phase, we developed website wireframes that allowed us to visualize the future website and approve the concept with stakeholders in the early stages of the project's development. After IRI approved our concept, our designers developed a responsive web-design in accordance with IRI's corporate style guidelines but with unique elements to clearly distinguish the Ukrainian website from the Institute's global webpage.

As a technical solution, DevEngineering suggested Drupal 8 as a platform for the project. Drupal perfectly met the requirements for content management capabilities, security and scalability. In order to successfully meet a strict project launch date, the development process was broken down into phases.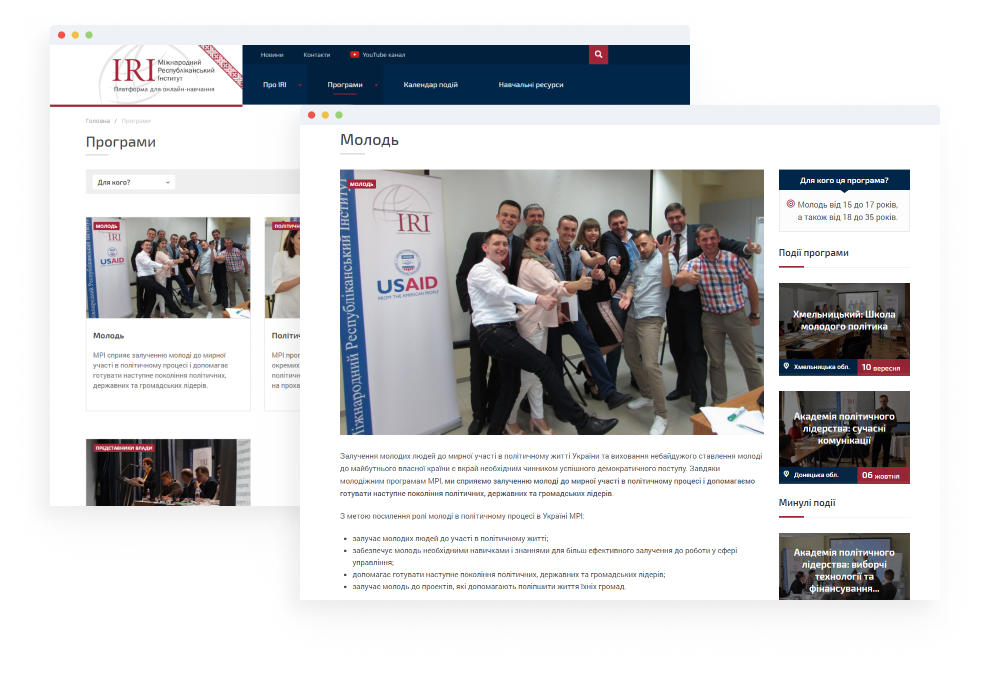 Programs
IRI runs multiple programs for various Ukrainian stakeholders, including citizens, local government officials, political parties, youth, and women. Information about these programs had to be presented in a clear, structured way with the ability to view events held under each of these programs and submit requests to register for trainings on specific topics.
Success Stories
To inspire people, IRI collects case studies on how IRI program alumni have progressed and made a shift in Ukrainian society as a result of IRI's support.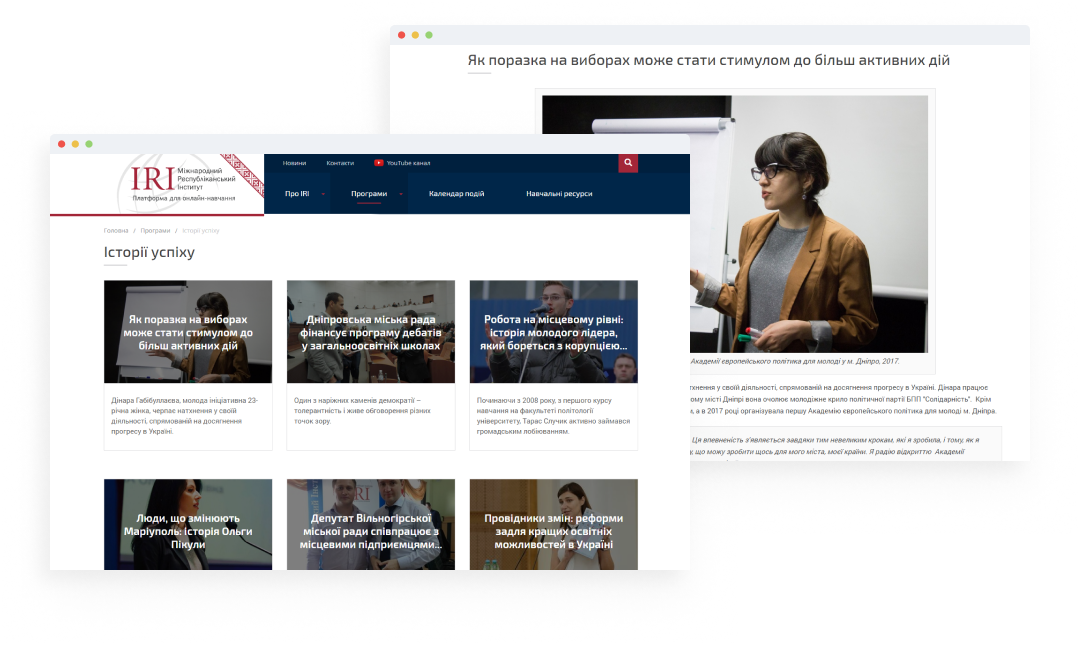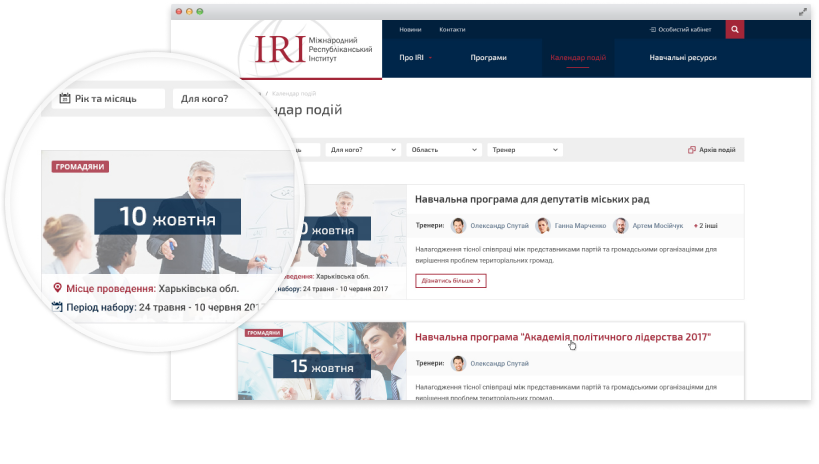 Events Calendar
IRI conducts a large number of events, trainings and workshops. They needed a way to advertise these events and effectively manage them through the website. We built an events calendar, which allows IRI to post events with descriptions, registration deadlines, trainers, locations, as well as a form to submit applications.
Interactive Event Map
Since IRI works all over Ukraine, they needed an easy way to indicate in which regions of Ukraine their activities are taking place. We've come up with an interactive map, which showcases IRI's past and future events.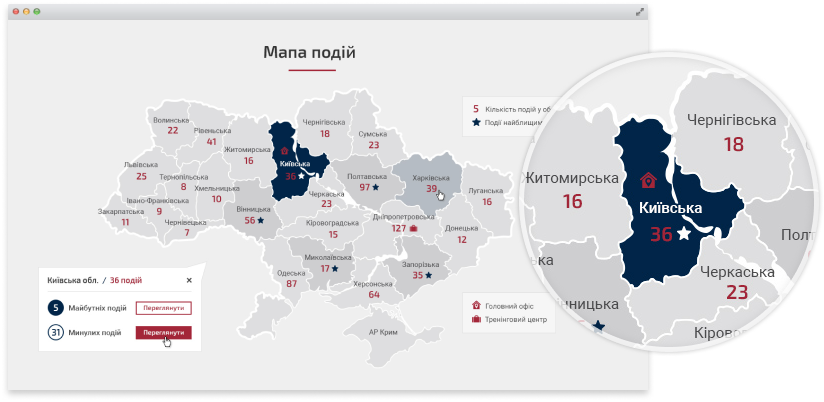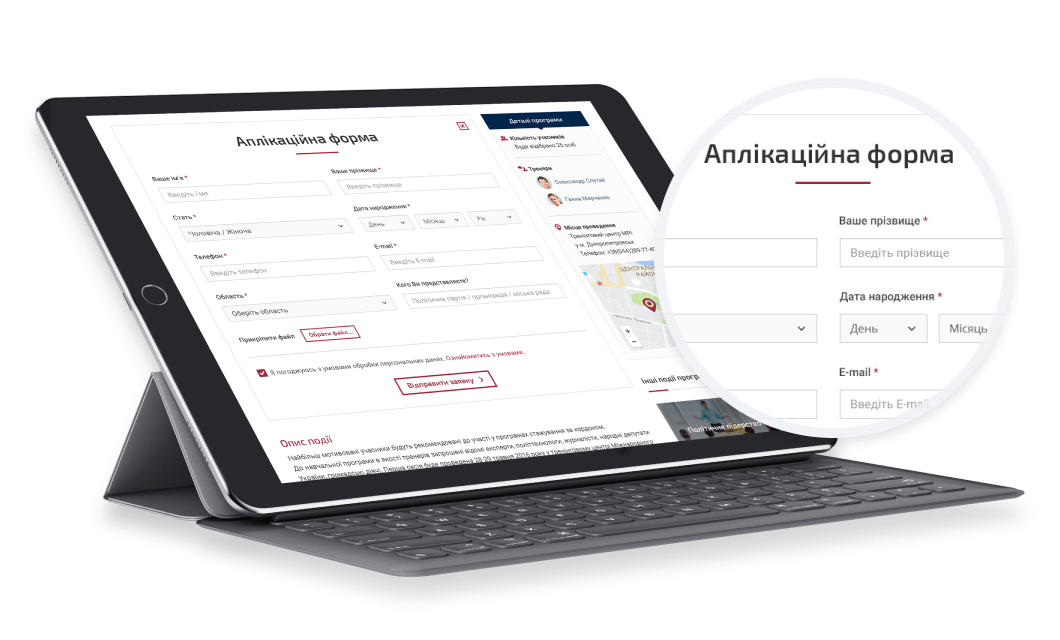 Application Forms
Because IRI works with different target audiences and runs a wide range of events from simple webinars to workshops that involve traveling
abroad, they needed a way to collect information from applicants on a case-by-case basis. We've built a flexible application form configuration system to allow collecting event-tailored information and an application processing system to review, shortlist, approve or decline applications.
Resources
Over the years, IRI has produced and collected numerous useful materials they wanted to share online. We've built a resource directory where IRI can upload eBooks, audio books, videos and more.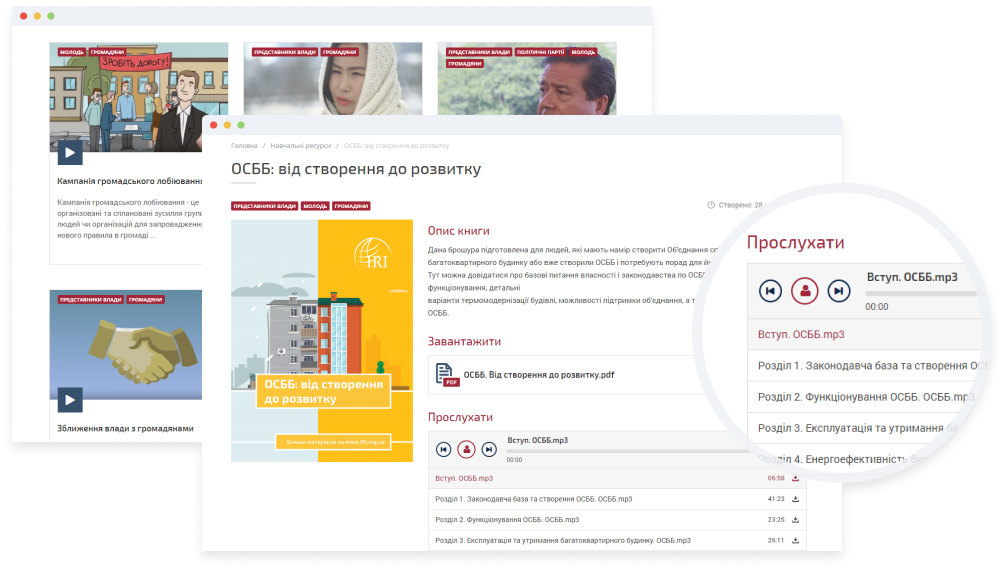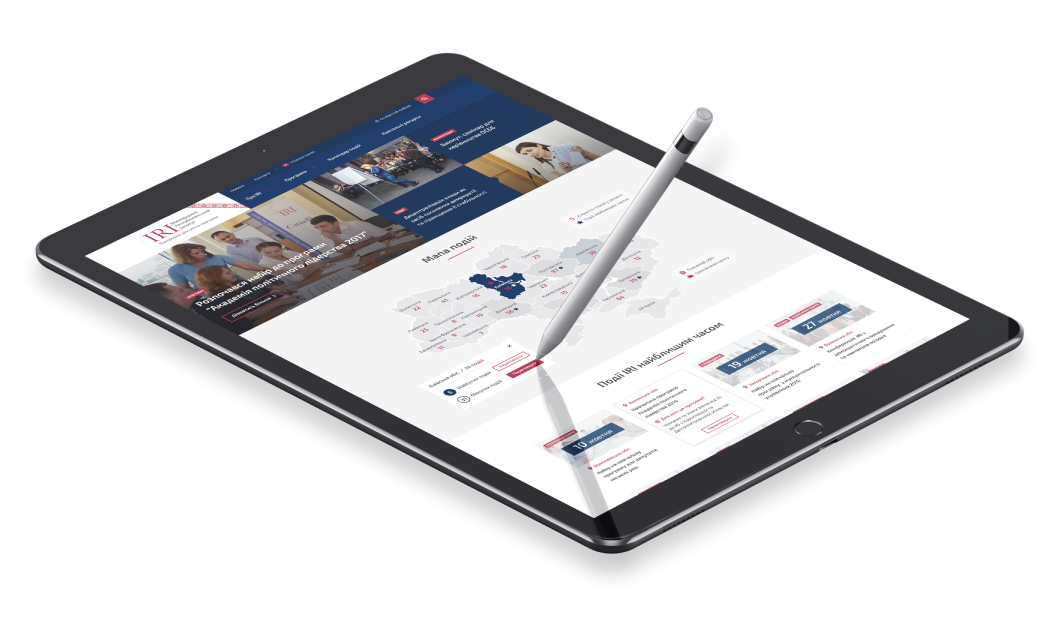 Results
DevEngineering has helped IRI to successfully launch the website and continues to be a proud tech partner, keeping the website secure and constantly improving it to increase IRI's outreach to the target audience.
Visit Website
Interested in working with us?
If you have a new business enquiry, a cracking project idea or simply want to have a chat and explore how we can work together,
we'd love to hear from you.